The Louisiana Consular Corps enjoyed Oktoberfest at The Deutsches Haus! The opening was well attended, and Mayor Cantrell, Lt. Gov Nungesser, and Susanne Veters Cooper, the Honorary Consul of Germany, performed the traditional 'tapping of the keg.' The visit by The Budweiser Clydesdales was an exciting sight for all, young and old.
On October 12th, Bret Clesi the Dean of the Consular Corps and Honorary Consul of Albania, hosted an impromptu lunch meeting with Rosine Pema Sanga, Mayor LaToya Cantrell's Director for International Relations to discuss the City's 2022 INTERNATIONAL WEEK proposed for next May. It's a priority for the Cantrell administration to make sure our city is a welcoming city through cultural experiences. Honorary Consul of Japan and Treasurer of the Consular Corps Donna Fraiche discussed the upcoming Japana America Society awards. Honorary Consul of Sweden and Consular Corps Executive Committee Member Cecilia Kjellgren discussed a proposed Sister City agreement with Stockholm, Sweden. Honorary Consul of Finland Philip Claverie attended the meeting as well to coordinate the upcoming visit of Finland's Consul General in the U.S. with Mayor Cantrell.
Tour of the Four Season Hotel on October 14th as the Consular Corps considers a new location for future Louisiana Consular Corps monthly meetings and for the revival of the Consular Corps Ball next Spring.
Dinner for Panamanian Ambassador Carmen Gisela Vergara, Yelsica H. Caballero & Panamanian Consul General Estefania Cheng P., New Orleans, Fri., October 1st, 2021 
The Panamanian mission visited New Orleans late last week  to promote the Panamanian Specialty Coffee Association Expo at the Convention Center.  In addition to Ambassador Vergara and Miss Caballero, other members of the Panamanian trade missions included Mr. Wilford Lamastus representing the President of the Panamanian Specialty Coffee Association, Ms. Grethel Mendez, the Café Gallardo and winner of the 1st Place Prize at the exhibition, Mr. Ivan Gonzalez Amar, the representative of Bambito Estate Coffee and winner of the 2ndPlace Prize, and Mr. Graciano Cruz, representing Empresa Hiu Coffee.  The Honorable  Consul General Estefania Cheng was the hostess of the Panamanian delegation for the week.
"It was such an honor to be a part of the re-signing of the France-Louisiana Accords this morning in our beautiful Louisiana State Museum – The Cabildo. This renewal for the 2020 – 2024 term continues the working relationship between Louisiana and France to provide educational opportunities for our students in the French language 🇫🇷
For over 40 years, this partnership has allowed teachers from France to come to Louisiana and share their expertise with our students.
The French language is a very important part of our heritage, so it is crucial we keep this beautiful part of our culture alive. We are so grateful for this partnership and the endless opportunities it provides to Louisiana! 🇫🇷🖊🇺🇸" – Billy Nungesser Lt. Governor of Louisiana, February 22, 2021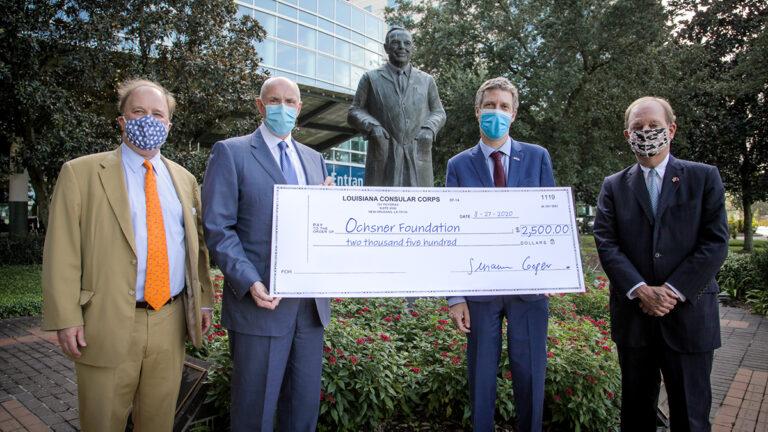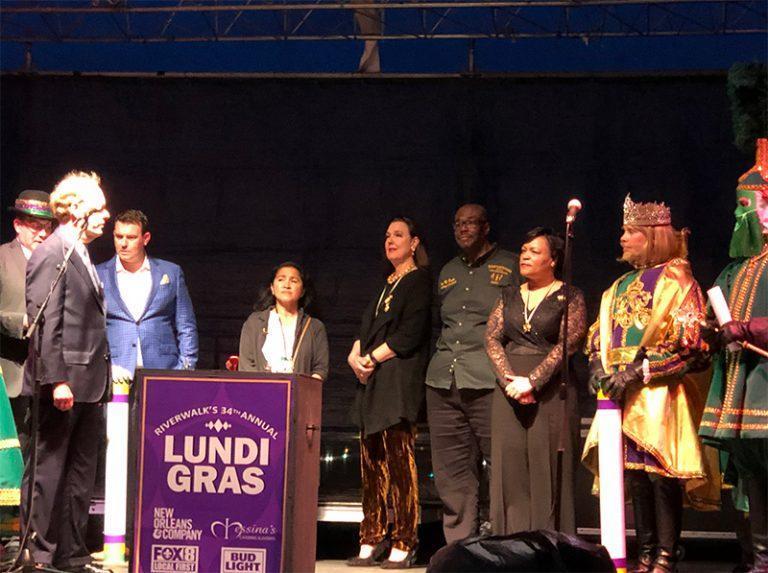 Louisiana Consular Corps Holiday Party
King and Queen of Spain Visit New Orleans, June 18, 2018
2018 New Orleans Tricentennial
October - World Trade Center of New Orleans Gala